Standard Tide Calendars for Businesses
Tidelines pre-printed 11" x 17" wall calendar is unique, using our signature blue sign wave to show the highs and lows of the tide. Each month is complete with full color, glossy, ocean themed images taken annually by world renowned photographers.
Calendar Photos
Details & Pricing
Standard Tide Books
A 4"x5.5" version of our wall calendar, this handy tide-book is perfect for travel in your pocket, purse, car & boat. The front cover features a full color photo from one of our famous photographers and there is room on the back to place a stamp or sticker, promoting your business or organization.
Custom Calendars For Business (With or Without Tides)
Tidelines Custom is an interactive website designed to create personalized calendars for businesses or organizations. You simply upload your photos, logo, text and special dates into our format and order your calendars. Your information and design are saved on our server so re-ordering or updating is a breeze. Calendars are printed and shipped directly to you, ready for sale and distribution. There is a minimum order of 50. You have the option of adding the tidal region specific to your area for no extra charge.
Click below for pricing and details
Custom Tide Books
Customize our handy 4"x 5.5" tide book with your business name, information, logos and photos. Our clients include: Surf Shops, Boating/Marine, Bait & Tackle, Marinas, Coastal Real Estate offices & many more.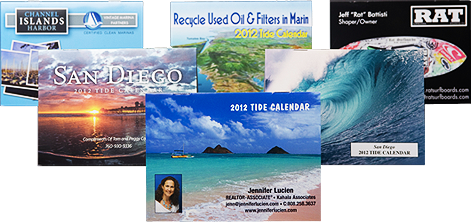 Custom Website Calendar Sales
CalendarLink.biz was created to add retail calendar sales to your business. Add a link to your existing website or use it as a stand-alone web page. Your customers can purchase a calendar you've predesigned or they can create their own; either way you profit. Simply upload photos, images and text, we do the rest. Orders are processed, printed and shipped without you lifting a finger. No inventory or management necessary and funds are directly deposited into your account.
Click below for pricing and details.
Tide Graphics
Tidelines can provide tide graphic files for you to create and print your own calendar for your business or a fundraising event. You can choose from 3,500 U.S. tide locations.
Please call us at 760-753-1747 for more information.
Ordering & Shipping Info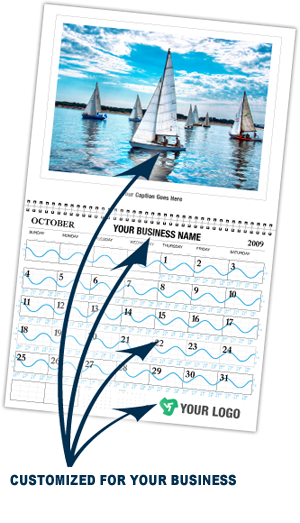 Order By Mail
Print an order form, fill it out and send with a check or money order to:
Tidelines Inc.
PO BOX 230431
Encinitas CA.
92023-0431
Print an order form & fill it out previous to calling. Please select your "area" before calling. Get your credit card handy and call 1-800-345-8524
Order By Fax
Print an order form & fill it out completely, including tide area and payment information.
Fax to 1(760)753-6410